Library Pane

The Library Pane in the Mapping mode contains an extensive database of video projectors. For each projector, properties like resolution, lens properties and housing dimensions are available. The Mapping Mode can therefore be used to plan a project in advance and help with choosing the right projection equipment. 

Searching the Library
The projector library is sorted by manufacturer. At the moment there are over 80 manufacturers in the database, each featuring a large number of projector models. If you know which projector you are looking for it is usually quickest to just use the search field on top of the Library pane. The search field performs a fuzzy search over manufacturers and model names.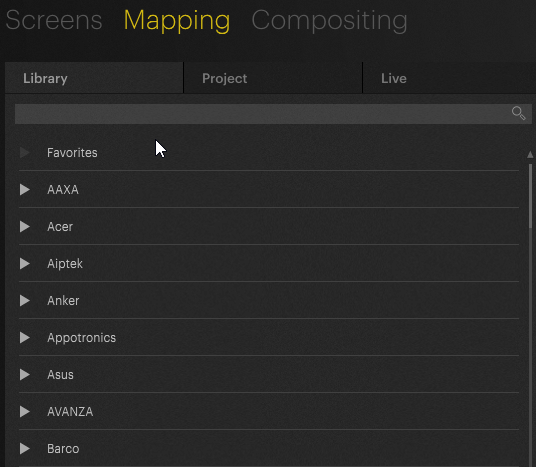 Generic Projectors
The list also contains a Generic projector, that can be used as a basis for a projector that is unavailable in the database. Used in the Workspace, this projector can be reconfigured to any resolution, throw ratio and dimension in the Inspector.