Selection Pane
The Selection Pane on the left side of the user interface lists all objects that can be placed or are have already been placed in the Workspace. This includes screens, LED screens, projectors, live inputs, content and timelines, most of which can be put onto the Workspace via drag-and-drop.
Depending on the active mode (Screens, Mapping, Compositing), the Selection Pane will display different items.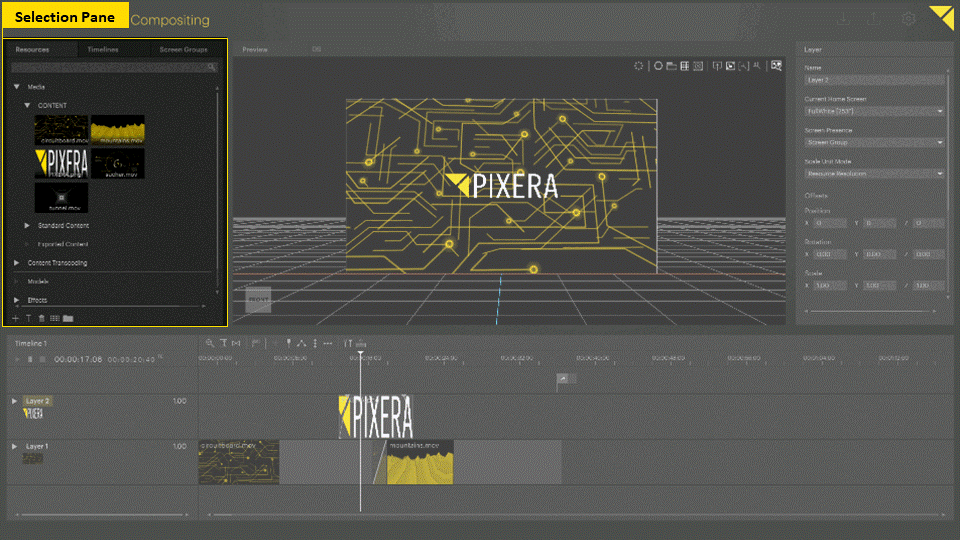 Selection Pane in Screens Tab
In the tab "Screens" you can find in the selection pane all objects that have a picture at the end. These are displays, LED panels and projection screens. 
You can also import 3D objects as custom objects - either as "Custom LED Panels" or "Custom Projections Screens". Please read more about using 3D objects in Pixera in the related article.
In the subtab "Project" you can always find the objects which are already in use in the Workspace


Selection Pane in Mapping Tab
In the tab "Mapping" you can find in the selection pane a large library of usable projectors as well as the projectors used in the workspace and the available servers under "Live".


Selection Pane in Compositing Tab
In the "Compositing" tab, you will find all the objects that can be used on the timeline in the selection pane. These are media files such as videos or images, effects, live inputs or 3D objects.
In the subtab "Timelines" it is possible to create additional timelines and in the "Screen Group" tab you can merge existing screens into groups.